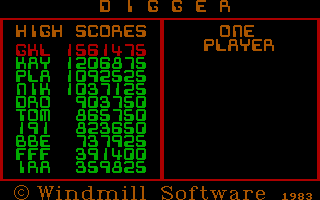 Loving would be easy if your colours were like my dreams,
Red, Gold and Green,
Red, Gold and Green.
- Karma Chameleon, Culture Club, 1983.

I n t r o d u c t i o n


Digger was originally created by Windmill software in 1983 and released as a copy-protected, bootable 5.25" floppy disk for the IBM PC/XT. As it requires a genuine CGA card, it didn't work on modern PCs. In 1998 a new version was created by Andrew Jenner which runs on all PCs with CGA or better and, whilst retaining all the atmosphere and playability of the original, has many new features, including:
Exit button
Optional VGA graphics
Recording and playback
Real time speed control
Keyboard redefinition
Gauntlet mode
Two player simultaneous mode
H i g h l i g h t s


Welcome to the official website of Digger Remastered. Here you will find everything Digger-related you could possibly want. While you are here you can:
Download Digger and related files.
Play Java Digger.
Find out what's new in the world of Digger.
Discover who are the champion Digger players in the hall of fame.
Join one of the Digger mailing lists.
Discover everything we know about Windmill software .
Become part of the latest craze to be sweeping the world. I've had hundreds of emails from people all over the world thanking me for making Digger available again.
Included with each version of the game is a text file which contains all the same information as this site.
If your links to Norway are better than your links to Germany, there is a mirror here.

This site was The 80s Server's "Totally Awesome site of the day" on January 25th, 1999.
---